aluminium mold export company
Company type:Manufacturer
Mold Frame Material:45#Steel
Cavity material:H13
Mold Structure:2-Plate Die
Tooling life:60-80K shots
Certification:ISO:9001:2000,SGS,ISO/TS16949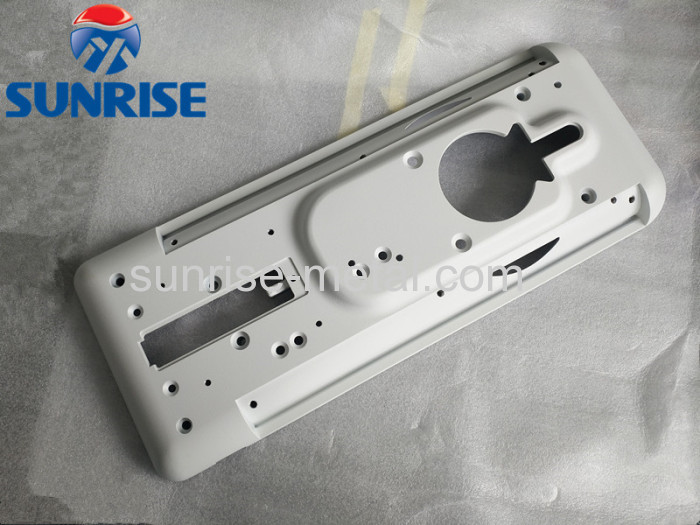 Company Information
1. Comapny :Sunrise Metal Technology Co.,Ltd.
2. Business Type: Aluminum die casting manufacturer and International trade
3. Business field: Rapid prototype
Aluniminum die casting
Zinc alloy die casting
Aluminum mold manufacturing
CNC Machining
We offer One-stop Solution. Integrate Rapid Prototyping, Tooling, Die casting, Machining, Sand blasting, Tumbling, Cleaning etc. all in house and out-sourcing other surface Treatments
4. Application Industry:Aerospace industry, Automotive/motor sports industry, Medical/Life Science, Marine industry, Telecommunications industry, Home appliance, Semiconductor industry, Electro/mechanical industry, Power Generation industry, Industrial equipment, etc.
5. We show more Interests in High Mix, Low to Medium Volume Projects,and OEM orders are warmly welcomed.
6. Our advantages and service
(1) Professional technical support
(2) Quick response
(3) Strict quality control process
(4) High cost performance
(5) Rich experience in mold design and die casting
(6) Abundant cooperation with occident corporations
(7) SGS/ISO/TS16949/ERP system guarantee
Factory Information
| | | |
| --- | --- | --- |
| EQUIPMENT LIST | CAPACITY | QTY |
| COLD CHAMBER DIE CASTING MACHINE | 800T | 1 SET |
| COLD CHAMBER DIE CASTING MACHINE | 500T | 1 SET |
| COLD CHAMBER DIE CASTING MACHINE | 400T | 2 SETS |
| COLD CHAMBER DIE CASTING MACHINE | 350T | 1 SET |
| COLD CHAMBER DIE CASTING MACHINE | 280T | 2 SETS |
| COLD CHAMBER DIE CASTING MACHINE | 250T | 1 SETS |
| COLD CHAMBER DIE CASTING MACHINE | 160T | 1 SET |
| COLD CHAMBER DIE CASTING MACHINE | 88T | 1 SET |
| COLD CHAMBER DIE CASTING MACHINE | 38T | 1 SET |
| DRILLING AND TAPPING MACHIN | | 2 SETS |
| MAZAK 7-AXIS CNC MACHINE CENTER | | 1 SET |
| CNC MACHINE CENTER (3-AXIS,4-AXIS,5-AXIS) | | 33SETS |
| GRINDER | | 4 SETS |
| ADVANCED LATHE | | 2 SETS |
| MILLING MACHINE | | 4 SETS |
| SPARK MACHINE | | 4 SETS |
| WEDM MACHINE | | 6 SETS |
| SANDBLASTING MACHINE | | 1 SET |
| VIBRATION MACHINE | | 2 SETS |
| DRILLING MACHINE | | 2SETS |
| SAWING MACHINE | | 1 SET |
Factory Workshop