With more than 10 years' experience, our 3 facilities dedicate to offer customer aluminum complete solutions including Prototyping, Die Casting Production, Machining from solid, extrusion, forging, etc. We offer One-stop Solution. Integrate Rapid Prototyping, Tooling, Die casting, Machining, Sand blasting, Tumbling, Cleaning etc. all in house and out-sourcing other surface Treatments. High Quality, Fast Production, Fast Response, Friendly service are Our Core Values. Our Market Target are High Mix, Low to Medium Volume Projects. We have an experienced engineer and quality control team as our strong backing. OEM orders are warmly welcomed.
Feature
Sunrise build up the Fast Mold Manufacturing Business Unit. Our fast mold team dedicate to fast mold. We quick react on tooling design, optimize every processes tooling manufacturing, 24 hour's work, utilize our in-house advanced tooling equipment and excellent tooling supply base in our area, design and manufacture tooling innovative ways. We now can shorten tooling manufacturing time by 50% for hard production tooling and can shorten to 1/3 normal tooling lead time for prototyping tooling.
Our fast mold manufacturing has already help our customer such as Marquardt, Hengst, Anologic, etc. to save more than 50% project develop time for their urgent project and speed up their project time to market.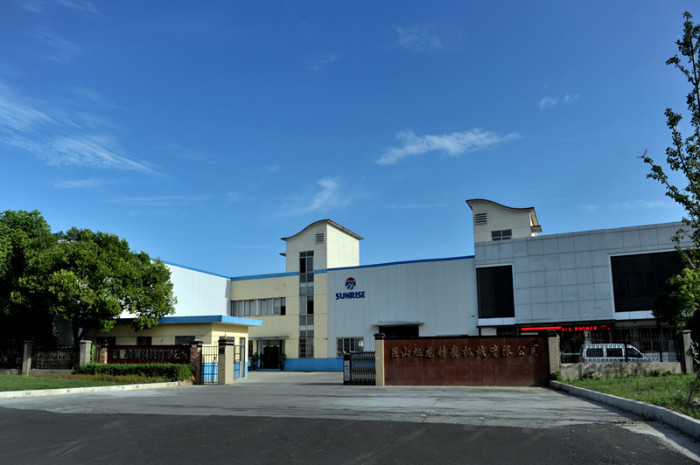 Factory Basic Information

Material

Die casting Material: Aluminum A380, ADC12, A360, ADC10,etc; Magnesium AZ91D, AZ30; Zinc (Zamak 3#, Zamak 5#)

No-Ferrous Metal:Aluminum 6061-T6,6063-T6,Copper,Brass and Titanium;

Steel: Stainless steel SUS304, SUS303,etc.

Die casting Process

Die Casting Raw Material → Trimming → Deburring →CNC machining →Surface treatment → package → Shipping & Delivery

Die Casting Equipment

1.12 sets Die Casting machine(From160T to 1600T)

2. 67 sets advanced CNC machining centers (3axis,4axis,5 axis and 7 axis CNC machine center)

3. 1 set Advanced 3D printer--Made by Stratasys USA. 1 set Carl Zeiss CMM and 2 other brands CMM, etc.

Good Inspection

Instruments

X-ray Detector, CMM, Spectrum Meter, Imaging Measurement Instrument, etc.

Precision machining

CNC turning, milling, drilling, grinding, cutting, reaming and threading

Surface Treatment

powder coating, polishing, sand blasting, heat treatment, painting, anodizing, electroplating, Chrome plating, etc.

Application

Medical Parts, Ultrasound system, Ultrasound devices, Diagnosis Equipment, Hospital machines, Medical devices, Auto parts, marine & ship equipment, Telecommunication, Textile Industry, etc.
State of the art technologies and materials combined with proven production processes are applied to produce prototypes in metals as following:
No-Ferrous Metal:

Aluminum 6061-T6, 6063-T6, Copper, Brass and Titanium, etc.

Steel

Stainless steel SUS304, SUS303,etc.

Die casting Material

Aluminum A380, ADC12, A360, ADC10,etc

Magnesium AZ91D, AZ30

Zinc (Zamak 3#, Zamak 5#)
Our Advantages
1. Strong R&D capability and rich engineering experience enable us,
a. Design Mechanical parts.
b. Design for Manufacturing
c. Cost saving suggestions.
d. PPAP capability
2. One-stop Solution
Integrate Rapid Prototyping, tooling, Die casting, machining, and assembling in house and surface treatments, together with various value-added services
3. Fast delivery
a. Rapid Prototyping: 1-2 weeks for Volume less than 200pcs.
b. Rapid tooling: 2-4 weeks for production tooling, etc.
c. Rapid Production: With Rapid tooling and quick production arrangement, we can provide quick production delivery.
4. Well trained work team
Honest, easy-going, hard-working and able to work under pressure; Well-trained invocational ethic, good mentality and high work efficiency